24 mai 2006
3
24
/

05
/

mai
/

2006
00:52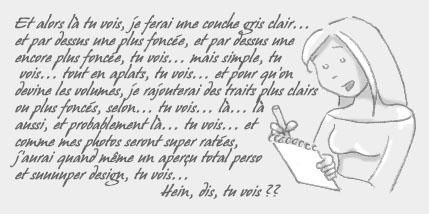 ------
And here I'll use a layer full of light grey... and over it, one darker... and over it, one even darker, you see... but simple, you see... Only layers, you see... And to show the volumes, I'll add some light stroke, or dark stroke it will depend... you see.. there... there too... and maybe also there... you see... and as my photos will be awful, I'll get a personnal and veeeeeeeeeery stylish vision of the castel, you see...
you see, don't you ?
Survoler l'image pour voir l'original...
Photo avec du soleil !!! trouvée
là...
------
mouse over the drawing to see the original photo...
The shiny photo was found
there...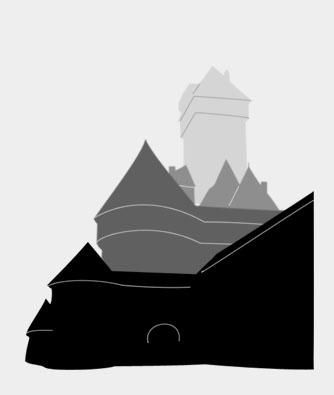 Tu vois, mon chéri, c'était pas si compliqué, en fait...
Bon, certes, c'est pas "suuuuuuuuuuuuper chouette", mais bon. C'est un peu design quand même. Non ? ......Hum.
------
Have a look darking... It was not so complicated after all, was it ?
Well, I do agree it's not "veeeeeeeeery nice"... but... it's a little stylish... isn't it ? .... Well.